WORLD-CLASS BLACK TRUFFLES
Tasmanian Truffles is Australia's premier producer of world-class black truffles and premium truffle products. Our dedication and expertise in producing exquisite truffle products is born out of decades of innovation and experience, and a drive to grow one of the world's most celebrated ingredients.
IDEAL GROWING CONDITIONS
Tasmania's cool climate, pure air and water and fertile soil create the perfect growing conditions for black truffles. On our family farm in Deloraine, at the foot of Tasmania's Great Western Tiers, our truffles are nurtured and grown slowly and carefully in optimum conditions. They lie in the cool, fertile earth, nestled among the roots of our orchards, until they develop their full flavour and aroma, and are ready for harvest. 
HARVESTED WITH CARE AND DEVOTION
We unearth our truffles at the perfect moment, guided by the finely tuned senses of our highly trained truffle dog and chief hunter, Doug. Each truffle is gently lifted from the soil by hand – harvested with the same care and devotion that we apply to every one of our premium truffle products.
Tasmanian Truffles is about passion, the rewards of patience, and the pursuit of perfection. 
LINGUINI WITH MUSHROOMS IN TRUFFLE OIL
A tempting take on a classic pasta dish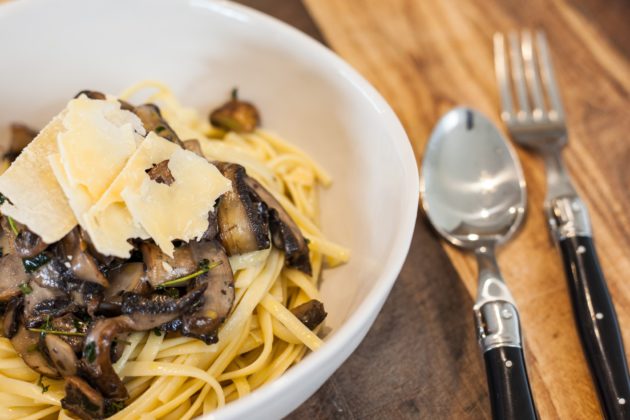 INGREDIENTS
450g fresh linguini
30ml Tasmanian Truffles Truffle Oil, plus a drizzle to serve
200g oyster mushrooms, finely chopped
150g brown mushrooms, finely chopped
50ml cream
20g parmesan, shaved
PREPARATION
Bring a large pot of salted water to a rapid boil, add the linguini and cook for about 4 minutes or until al dente.
Drain most of the water away from the pasta leaving about ½ cup of the water in with the pasta. Drizzle the pasta with 10 ml of the truffle oil and toss to coat.
Meanwhile in a medium fry pan heat the remaining 20 ml of truffle oil over high heat. Add the mushrooms and cook for about 4-5 minutes or until the mushrooms begin to take on some caramelisation.
Stir through the cream and toss to combine.
Serve the pasta in a serving bowl and top with the mushroom mixture, add shaved parmesan and finish with some truffle oil.
CREAMY TRUFFLE AND CAULIFLOWER SOUP
A warming winter soup, perfect for those cold nights
INGREDIENTS
1 onion, finely diced
2 garlic cloves, crushed
Olive oil
500ml water
1 head cauliflower florets
1 tsp ground nutmeg
1 ½ tsp sea salt
200g butter
2 tbs Tasmanian Truffles Truffle Crème
Fresh truffle, shaved
PREPARATION
In a large saucepan, fry off the onion and garlic in the olive oil until translucent.
Add the water, cauliflower florets, nutmeg and salt and bring to the boil. Allow to cook for 30-40 minutes, or until the cauliflower is soft and falling apart.
Blitz the soup in a blender for 2 minutes to ensure completely smooth. Add the butter and truffle crème and blitz again.
Serve straight away with freshly shaved truffle to garnish.